Hello everyone. Glad to join this board from the metro Detroit area. As of this past Saturday, I am now a 2017 GT350 owner. Car cleared Flat Rock on 4/10, delivered to the dealer on 4/20, sat for 9 days at an Ohio dealer where I was able to scoop it up. Car came with the just the electronics package.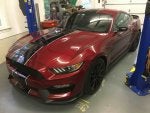 This is a nice car with an awesome exhaust note. I only have ~200 miles on it so far but I look forward to when I can tap the throttle a little deeper. For now I'm not exceeding 4000 rpm.
I already got rid of the hood prop rod and went with the Redline struts. I have them on my other cars.
Ordered a Lathewerks custom shift knob
Am considering a MGW shifter. I've had 3 on other cars and love their precision but I'm finding stock GT350 shifter not too bad.
I am member of the Focus RS sister board and look forward to more posts here. Always good banter and info exchange.
BTW, I am looking for an OEM car cover. If someone has one they want to sell, post a reply or shoot me a PM.