I've got a Bullitt Mustang for sale! Yes, we're asking ADM for it, but this one comes with something no other Bullitt does: I'll get you a Steve McQueen sweater myself and I've got a custom leather shop to make you a custom holster to fit whatever your sidearm of choice is. I'm not even joking, I'll hook you up! Gimmicks aside, here's the skinny:
Our ADM is far more sensible than most dealers. We're asking $5,000, so it's at least an improvement on what's generally done. Plus we have one of the best financing departments in the nation, working with 35+ different lenders to get you the best financing possible on your investment.
So here are some pictures of the Bullitt including the window sticker. Call me, text me, PM me, whatever! Email is:
[email protected]
Cell is: (865)988-0003.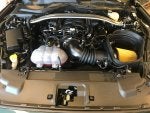 We're located in Lenoir City, Tennessee. We're just outside of Knoxville. The last customer to take a trip to buy from me (a guy from the Focus RS forums) was treated to steak, was hooked up with a nice bed and breakfast for his overnight stay, received some freebies at a local Belgian Cafe, and got a great chance to drive down one of the US's most famous roads (US129 "The Tail of the Dragon") with professional photos of him in his new vehicle.
What I'm trying to say is that we're worth the trip not just for the vehicle itself, but for a great chance to enjoy it on beautiful roads and experience East Tennessee hospitality. You won't be disappointed.